0.05 ctw. Commanding Grey Titanium Band with Cable Band in Titanium/Silver
$345.00
In Stock | STYLE: HGRCM10005-TIS
Available in 7-10 Business Days
---
Inquire
Commanding Grey Titanium Band with Cable Band set in Titanium/Silver*Prices are subject to change based on fluctuations in metal prices and currencies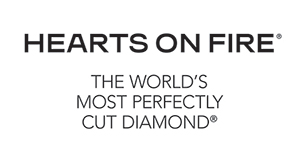 HEARTS ON FIRE DIAMONDS

Hearts on Fire hand selects only high-quality, transparent, and knot-free natural diamond crystals. Diamonds that meet these rigorous standards are rare. So rare that only 1/10 of 1% of the world's rough diamond crystals can become a Hearts On Fire diamond.


THE HEARTS ON FIRE CUT

A blend of art and science, the Hearts On Fire cut is designed to let in as much light as possible for an exceptional sparkle that's impossible to miss. Hearts on Fire's proprietary cutting formula highlights a diamond's physical properties—like the way it reflects and refracts light—and emphasizes its inherent beauty with precise angles that show it off to its most magnificent effect.


HEARTS ON FIRE TECHNOLOGY

Hearts On Fire cuts every one of its unique diamonds at 100 magnification. They use a special damping system licensed from Rolls Royce. Their diamonds are cut to tolerances beyond the capability of ordinary diamond scathes. Most diamonds are cut by hand; Hearts On Fire cutters use a mix of traditional hand craftsmanship amplified by exacting computers. Once a diamond crysal is rounded, a single cutter is responsible for the entire process rather than just mass producing with different people at each stage of the process.


THE HEARTS ON FIRE PROMISE

Hearts On Fire diamonds are guaranteed conflict-free, from point of origin to final piece. They travel to the ends of the earth to find the most beautiful diamonds on the market, and source them responsibly and ethically from South Africa, Botswana, Namibia, Angola, Russia, and Canada. Their diamonds are 100% in compliance with the Kimberley Process.
General Details:
Sterling Silver & Titanium
Available in 7-10 Business Days
Secondary Diamond Details: